We Al-Mawadda team members from multi nationalities, ages, names, religions & colours…are the humble hearts working together with one spirit, one dream, one wish & one ambition under the motto: Peace to the World.
Founded by the poet, journalist and concept innovator Suzy El-Hage, under the guidance & supervision of Prof. Dr. Fr. Adel Theodore Khoury, Al-Mawadda community unites artists and specialists in education, sociology and psychology collaborating together to spread a message of peace to the world from Lebanon, the "Message Nation" as described by late Pope John Paul II.
Special thanks to our consulting team to name but a few: Nadine Tabet, Pauline El-Hage, Eliane Mouawad, Dima Khoury and Carole Daou.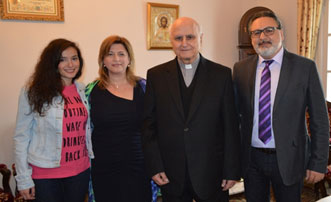 Founding President Pr. Dr. Fr. Theodore Khoury with Co-Founders: Gaby Farah, Suzy El-Hage and Nadine El-Hage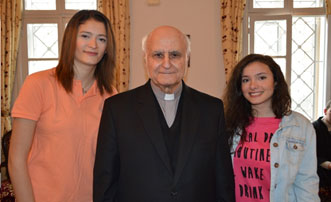 Founding President with Christina El-Hage Head of Activities in Youth Committee and President of the Committee Nadine El-Hage
Page 7 of 12