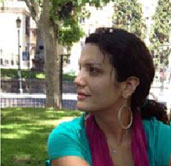 Dima served as the Executive Director of INJAZ Lebanon from 2004-2012: a non-governmental, non-profit organization dedicated to educating students about work readiness, entrepreneurship and financial learning. Founded in 2001, IL helps inspire a culture of entrepreneurialism and business innovation among youth in Lebanon by providing experiential hands- on programs to youth and connecting them with volunteer consultants from the business world. INJAZ Lebanon is an affiliate of INJAZ al-ARAB and Junior Achievement Worldwide, the world's largest educational organization dedicated to Workforce Readiness, Entrepreneurship and Financial Literacy, and reaches 9.3 million students a year, from kindergarten through 12th grade, in 123 countries.
Dima was one of the first volunteers to pilot the INJAZ programs in 2001 with 230 youth, and she oversaw the growth and institutionalization of INJAZ Lebanon from a volunteer activity – reaching 3000 youth/year in 2004, to over 11,000 youth/year in 2012.
Dima holds a Bachelor of Architecture degree from the Lebanese American University and a Masters Degree in Communication Design from Kingston University, London.